We partner with some of the top companies in the industry to provide you with all of the tools you need to run a successful home care agency.
PROCESS PAYMENTS WITH NEXT-DAY FUNDING
We've partnered with CardConnect® to create AxisCare Bill & Collect, your single-system payment processing solution. Process Credit Card and ACH payments with the click of a button right from your AxisCare site, receiving funds the next day for most merchants.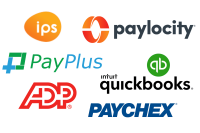 PAYROLL HAS NEVER BEEN EASIER
Ready to pay your caregivers? Simply send the shift to QuickBooks or use one of our customized exports to send the information right to your payroll company.
ELECTRONIC VISIT VERIFICATION

EASILY FIND DIRECTIONS TO CLIENT HOMES
Open client addresses within Google Maps for easy-to-follow directions.
Preferred Pricing for AxisCare Customers – Better Training, Better Care.
With the Nevvon + AxisCare, agencies can easily pass caregiver training information between the two systems. Activate and manage caregiver access and easily curate and auto-assign caregiver training through the Nevvon Learning Management System.
Polsinelli Online Solutions for Home Care (POSH) provides an online, affordable, one-of-a-kind experience for home-based care employers of all sizes. With POSH you can access a comprehensive set of customizable up-to-date forms, tools and resources at the federal, state and local levels to help you throughout the business cycle from pre-hire through termination stay in compliance with the everchanging complexities of the industry's regulatory and legal landscape.
We partner with home care franchises and membership organization across the nation to not only provide their home office with the tools they need to manage their individual locations, but also to provide their franchises with a scheduling and management powerhouse that allows them to grow and provide better care – setting them apart from their competitors.
We're confident that once you try AxisCare Home Care Software, you won't go back to the old way of managing your business.
Membership and Franchise Groups We Work With