Providing the right salary and benefits to caregivers is essential for your agency's survival and growth.
Caregiver wages are premised on the growing shortage of professional caregivers and the hike in the minimum wage. Home Care is among the most in-demand professions, with industry professionals projecting that an extra 7.8 million caregivers will be needed by 2026, reflecting a 76% increase from 2014.
The shortage of caregivers in the past few years has driven up the cost of care. As a result, many agencies are finding it hard to attract and keep the right talent. The annual cost of a full-time (44 hours per week) caregiver now averages $27,918, with an hourly wage of $13, according to Zip Recruiter.
Why Are Caregiver Wages Rising?
You might want to start paying your employees above average because times have changed. It's an employee's market, and better salaries and benefits could be your only way of acquiring and retaining the best talent.

Caregiver Pay Ranges image pulled from *Home Care Pulse Benchmarking study.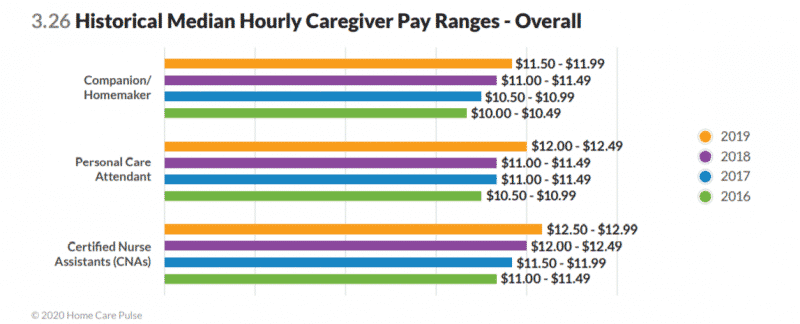 The economy is growing, and for that reason, caregivers can easily land better-paying jobs in other sectors, including hospitals. On the other hand, the population is aging faster and many seniors are choosing to spend their sunset years at home.
The demographics of caregivers also play a role in rising costs. Currently, experienced home caregivers are aging out of the workforce.
Being a caregiver is demanding both physically and emotionally, and many are simply not interested in caregiving careers, leaving agencies with a small pool of employees to pull from.
The current minimum wage is $7.25 an hour for home caregivers, but more than 24 states including, New Jersey, Oregon, and Chicago, have raised their benchmark to $15. Following the House ruling in July 2019, all the states are required to have raised the floor to $15 in the next six years.
The pay hike may be a victory to low-income workers, but it is a big puzzle for agencies regarding reimbursement, hiring, and retention. How do you pay your workers more while keeping your bottom line unaffected?
The seemingly quick and easy answer to that would be raising fees for consumers. But that's not possible in every case, especially where services are paid by Medicare and Medicaid.
Tightened Immigration Policies
Politicians forget that people living in the US are growing older, much faster, and developing more chronic conditions. Both agencies and elderly care homes are losing hardworking and dedicated individuals when there is an enormous demand for care services.
The Trump Administration has aggressively clamped down on immigration. In 2017 immigrants and no-citizens made up 18% of all healthcare workers in the US. That external resource for talent is drying up, and thus the only way to keep an agency running is to pay better home caregiver wages.
How It Affects Recruitment and Retention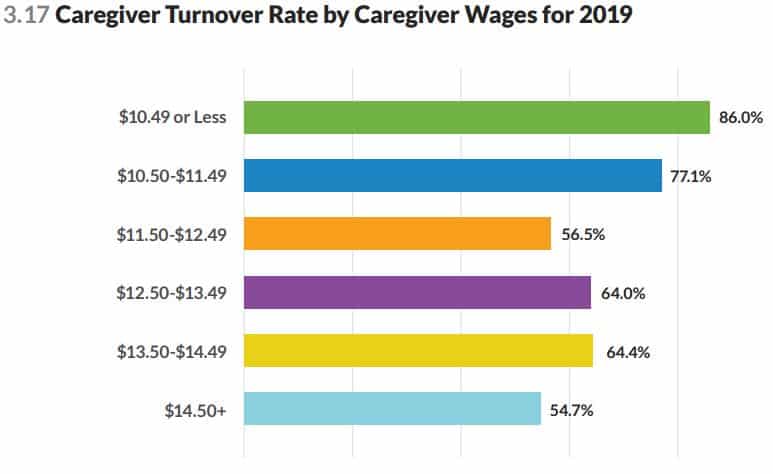 If you can't offer the same high salary as your competition, ramp up the benefits, including paid time off, performance bonuses, and gas cards. *Home Care Pulse confirms that training opportunities and stronger benefits have significantly helped to flatten the curve of high attrition in the home care caregiving sector.
Further, there is a strong correlation between office staff and caregiver turnover. Agencies that retain office staff for longer have lower attrition rates for caregivers. *The Home Care Pulse study shows that you lose five caregivers for every supervisor or scheduler that quits.
How Much to Pay Caregivers in 2020
There is a massive demand for home caregiving services right now, along with a shortage of workers. There is competition not only from other home-care agencies but also from restaurants and retailers that pay better wages. Though not yet signed into law, the new proposed minimum wage for caregivers is $15. Dozens of states have already implemented this new benchmark, and many private agencies are paying their workers way more.
When deciding home care caregiver wages, consider your workers' value in client experiences and their impact on smoother company operations and growth ambitions. Realize that when a single caregiver quits, it can cost you more than $14,000 from disrupted operations to missed shifts, new hiring costs, and impacted client experiences.

Can't afford to pay much more but still want to bump up your compensation? Here are 47 ideas for employee benefits to give you some ideas!
*The Home Care Pulse Benchmarking Study (linked HERE) is an annual study done by Home Care Pulse, providing viewers with the most comprehensive report on the home care industry. 
Use AxisCare's discount code for a 20% discount: axiscare20