Boston Home Care Agency Reduces Hospitalization Readmissions to Well Below National Average
Prior to launching the Thriving at Home® approach and using AxisCare's Hospitalization Tracking tool to track readmission rates, Dave Tasto and his team at Assisting Hands® – Boston Northwest were recording hospitalizations using ad hoc, time-consuming tracking at the client level. As Dave states, "We did track hospitalizations at the client level but did not have a tool to report that data or a standardized way to even calculate our hospitalization rates, so the reporting was a huge missing piece." 
When AxisCare released its Hospitalization Tracking feature, Dave's team was one of the first to implement the feature, utilizing the data to track and iterate their readmission reduction strategies. 
Reduced Hospital Readmissions
Improved
Client Satisfaction
Remaining in the home, colloquially known as "Aging in Place," is a key goal for 9 out of 10 Americans, according to a recent survey by AAG. Hospitalizations are extremely challenging for both clients and their families, and the likelihood of the client returning after admission is about 1 in 5 within just 30 days (national average for Medicare patients, for the same diagnosis).

Dave and his team saw the crisis clients and families were facing and sought to change the script. They quickly realized that they needed a more structured system to improve effectiveness and a less time-consuming, more accurate way of tracking key indicators across multiple locations.
"In home care, we are in the business of preventing hospitalizations."  – Dave Tasto,
 President/Owner
We sat down with Dave to learn more about his approach. Watch the interview below to learn how he is preventing and tracking hospitalizations. You will walk away with 2-3 actionable steps to do the same for your home care agency!
Thriving at Home  Program Launched
Dave and his team instituted the Thriving at Home approach with their clients and families to equip them with knowledge, including home safety and fall prevention information, to begin to prevent common causes of visits to the hospital or emergency room. 
He also instituted Thriving at Home  Certification Training for his caregivers, preparing them with the interventions and appropriate escalations needed to address changes in condition, ultimately avoiding major causes of crises situations that could lead to hospitalizations. 
Organized Tracking with AxisCare Begins 
When the AxisCare Hospitalization Tracking Tool became available, the team at Assisting Hands – Boston Northwest applied the technology to each phase of care – from the initial intake of new clients to updating care notes on existing clients – in order to assess risk and track incidents and hospitalizations.
This newly organized data provided a way to monitor client conditions while effectively allowing for real-time communication with care managers and clients' family members along with escalation to health care providers when necessary.
"We're also receiving referrals from new partners who see our focus on hospitalizations in driving high client satisfaction and caregiver satisfaction as true differentiators in the area."
Dave Tasto,  President/Owner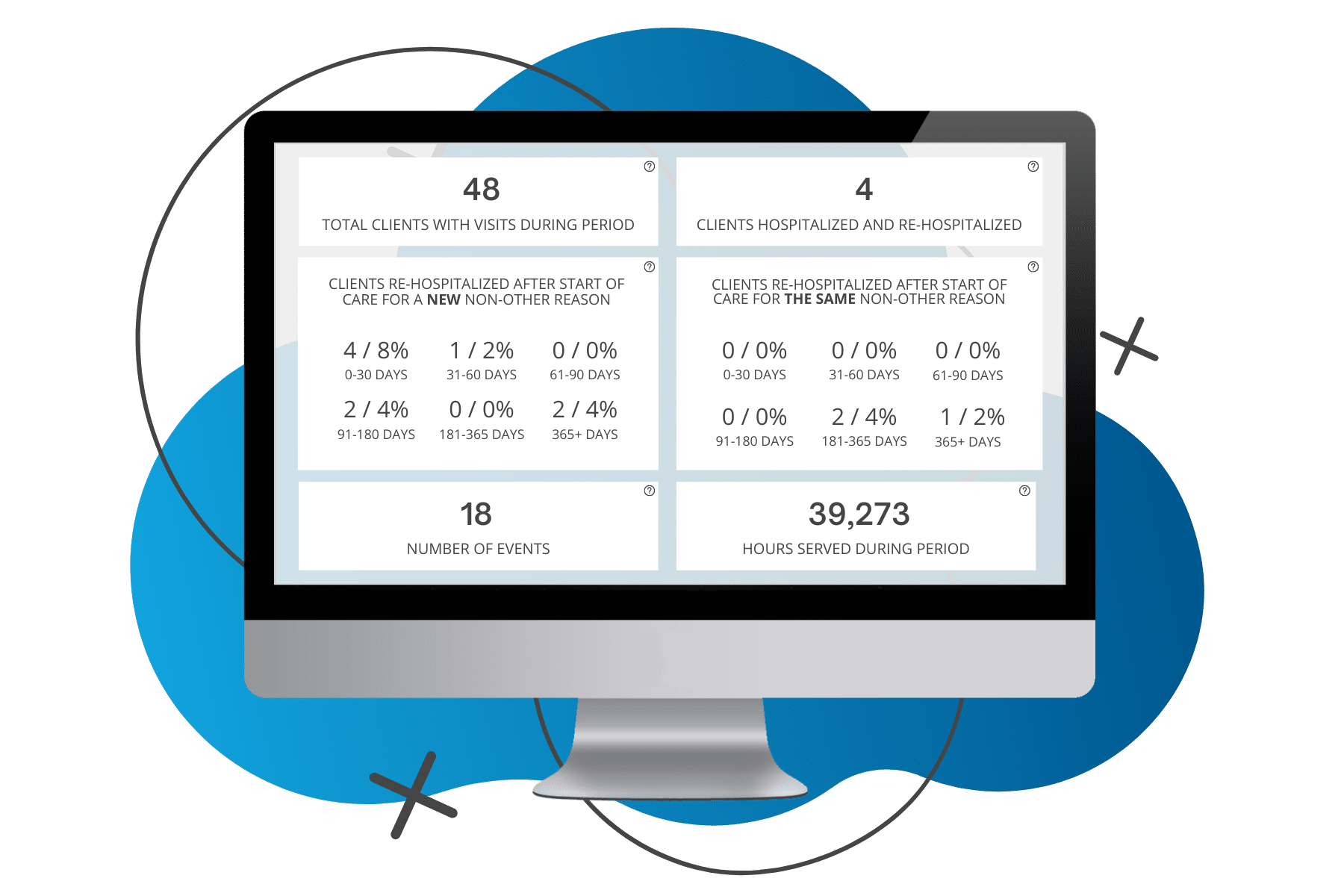 Utilizing both the Thriving at Home approach and the AxisCare Hospitalization Tracking feature, Assisting Hands – Boston Northwest has reduced hospital readmissions to well below the national average, which currently stands at 16%.
"We are regularly monitoring our readmission rates and are consistently tracking in the very low single digits," says Dave. 
With data-driven decisions based on accurate tracking, Dave's agency has seen improved client satisfaction rates and increased referrals, including new partners who see the focus on hospitalizations and driving high client satisfaction rates as true differentiators. Their office has also become as a "2022 Home Care Provider of Choice" in the Boston area. The satisfaction of caregivers who have received training and now benefit from having a true system in place, more regular shifts, and happier, healthier clients has also been a beneficial outcome that Dave contributes to the combined approach. 
DAVE'S CURRENT READMISSION AVERAGE
*NATIONAL READMISSION AVERAGE
As Dave says about home care, "We're in the business of preventing hospitalizations." To replicate his success in tracking and lowering hospitalization and readmission rates at your agency, start by taking the following steps:
1.  Start by tracking all incidents and hospitalizations immediately
2.  Take proactive measures that can impact your rate of hospitalizations
3.  Update your intake process to capture prior hospitalization information
4.  Tailor your care plans to address potential causes of hospitalizations
5.  Train your caregivers to look for and flag causes for hospitalizations prior to a crises event
Industry-Leading Hospitalization Tracking
AxisCare is leading the way in hospitalization tracking.
Document and track hospitalizations, using real data to determine and prove your success at minimizing readmissions – separating you from your competition.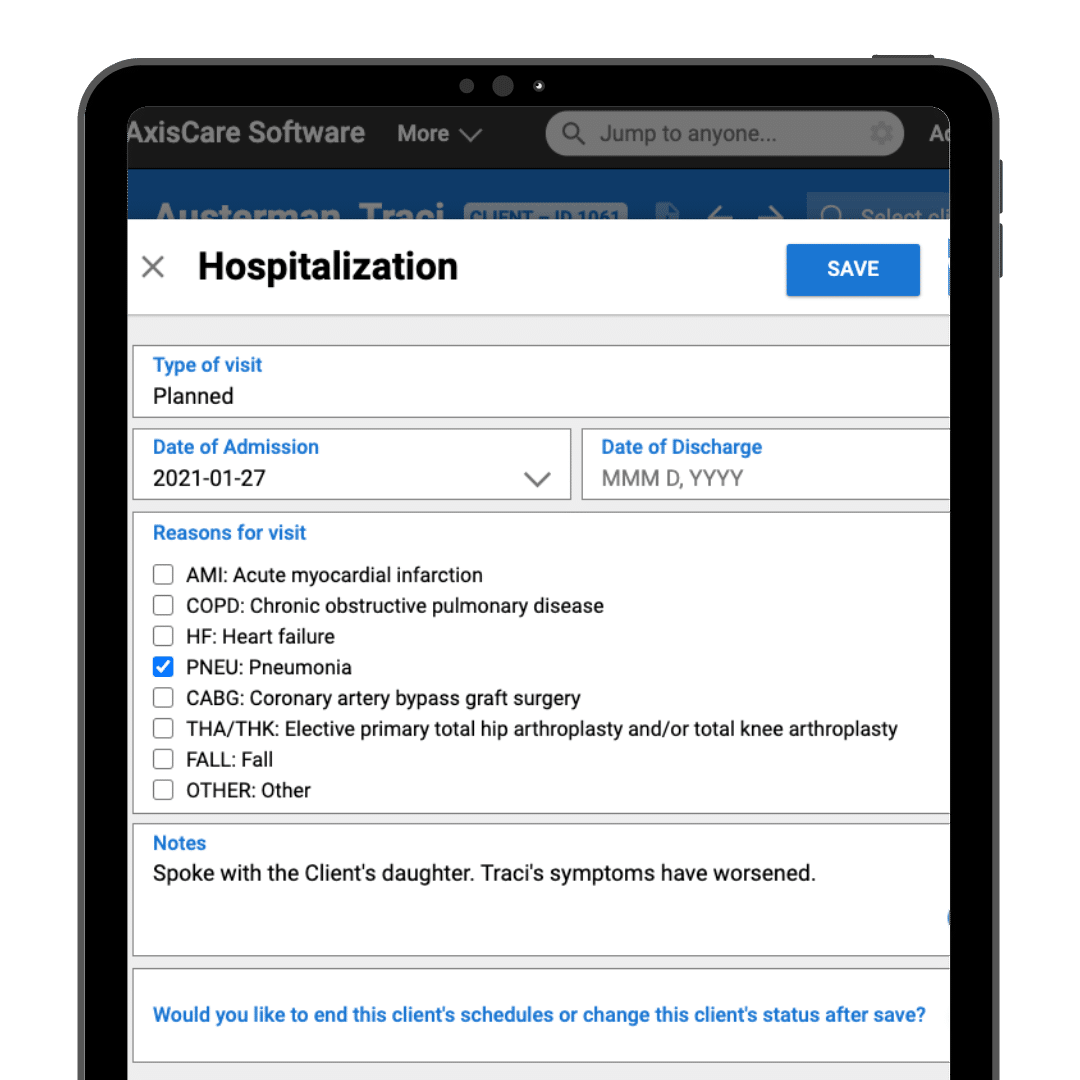 We're confident that once you try AxisCare Home Care Software, you won't go back to the old way of managing your business.
Membership and Franchise Groups We Work With