Tracking client hospitalizations and readmissions is rarely done in the home care industry but could significantly aid in the growth of your agency.
You may have heard that tracking client hospitalizations and working toward reduced readmission rates is increasingly important for home care agencies. If your agency uses full-service home care software, like AxisCare, you may also know that the capability of tracking hospitalizations is built into your software.
What you may NOT know is that the majority of home care providers are not tracking hospitalizations, leading to missed opportunities for growth. Find out how your clients, their families, and your agency can benefit in three key ways below.
What's All The Hype About Tracking?
The Hospital Readmissions Reduction Program (HRRP) was established to address preventable hospital readmission of patients. The HRRP administers penalties to hospitals in the form of reduced Medicare reimbursements, the amount of which varies based on patient readmittance rates within 30 days of release. Preventable rehospitalization costs Medicare millions of dollars each year.
The period of time following a hospital stay is a crucial time in the recovery process, and with the HRRP in place, hospitals have an incentive to encourage patients to receive additional care and monitoring.
According to Home Care Pulse, "home care is an ideal setting to focus on reducing readmissions because of its ability to proactively address factors across all parts of a senior's life that could lead to an issue requiring readmission."
Data proves that a reduction in hospitalizations is a great demonstration of the value that home care adds to the total continuum of care.
However, according to a study by HomeCare Pulse, less than 25% of home care providers are tracking hospital readmissions.
3 Major Benefits for Your Homecare Agency
Digitally tracking hospitalizations is the first step toward decreased readmissions. Not only is it a benefit for patients and hospitals, but it's also an advantage for your business. Tracking the data allows your personal care agency to provide better care for clients, increase the regularity of shifts for your caregivers, and place your agency at the top of the list for professional referrals. All three of these benefits lead to growth for your home care agency!
1.  Improved Care
Tracking pertinent data, such as hospitalizations and readmissions, allows your caregivers to be more attentive to client needs as they change over time. This information assists in creating dynamic care plans that allow caregivers to be more aware of client symptoms and could lead to a reduction in preventable hospital readmissions. Healthier, happier clients and their family members are a great source of word-of-mouth marketing for your agency. 
2.  Regularity of Caregiver Shifts
When clients are repeatedly admitted to the hospital, caregivers who assist them lose the ability to maintain a predictable schedule and potentially lose needed hours. Changing schedules also adds more work to a scheduler's plate as they attempt to provide hours elsewhere. Reducing hospital readmissions through data-monitoring results in satisfied clients and employees, which is a win-win for your business.
3.  Strengthened Relationships with Referral Sources
In addition to review campaigns and other home care agency marketing strategies, strengthening relationships with professional referral sources is one of the best ways to grow your business. As Medicare Advantage plans and accountable care organizations work to keep spending low and nearly half of the nation's hospitals accrue fines from the HRRP, there is a strong incentive to refer discharged patients to home care agencies. Data-backed reduction of hospital readmissions puts your agency at the top of the list to receive these referrals.
Tracking Made EASY
Tracking hospitalization rates is the first step toward lowering readmissions. AxisCare's all-in-one home care software is leading the way in hospitalization tracking, giving you the tools needed to track every hospitalization, ensuring you have the data needed to prove your success.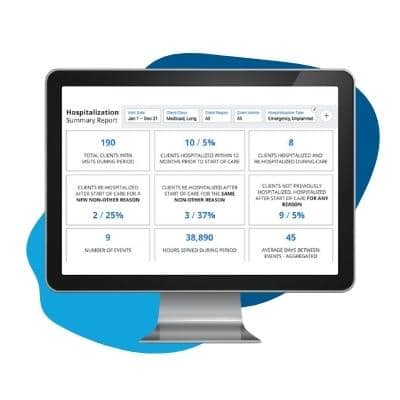 *Pro-tip: Using the AxisCare Hospitalizations Summary Report provides real-time hospitalization data and valuable insight into readmissions and the most commonly associated causes.
How much money could you save with AxisCare's Hospitalization Tracking?
Recent Posts on Home Care Management