Before COVID-19 exploded worldwide, home care was on the rise. Then the pandemic hit, and the value of home care came to the forefront.
Now, we are catching a glimpse of post-pandemic trends. And still, demand for home care is slated to increase.
With so many promising statistics, it's clear that home care is entering an era of tremendous possibility. Its potential extends from immediate to far into the foreseeable future. 
Home Care Industry Growth
Between 2015 and 2019, the home care industry grew by 44%
This statistic alone is remarkable.
Then, 2020 and COVID-19 arrived and negatively affected most industries, including home care.
But not for long.
Hospitals had to shift resources to make dedicated floors for COVID-19 patients. Medical professionals were unable to meet high inpatient demand, and the benefits of home care services quickly became more evident.
The role of home care in public health was no longer an anomaly, but a necessity.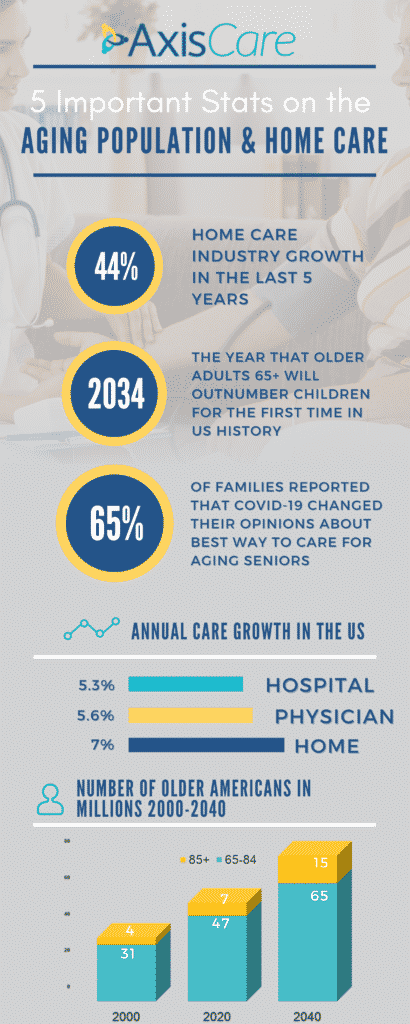 Fast-forward to the present-day, and exposure to the virus remains dangerous. Even with an army of vaccinations, COVID-19 mutations will continue to keep us more secure inside our homes and cautiously on our toes.
The big picture is this: the need for home care and dedicated professional caregivers isn't going anywhere. Plentiful statistics support this fact: Business Insider reports that annual home care growth in the U.S. is currently outpacing that of both physicians and hospitals. It's predicted that community-sponsored programs for all-inclusive elder care programs like those currently supported by Medicare will expand with state and federal funded programs.
Of all the current tendencies in medical care, the biggest trend relates to the significant aging population in the United States.
Consider this demographic: In 2034, adults over the age of 65 will outnumber children for the first time in history.
That's a mere thirteen years from now.
In addition, the number of seniors aged 65-84 will reach a staggering 65 million. And the number of seniors over the age of 85 will exceed 15 million.
As people live longer, senior care won't survive without expanding its resources. Allowing more seniors some level of care in the comfort of their own homes is the ideal solution. 
New Preferences for Senior Care 
Every day, healthcare professionals and insurance policy makers witness the critical niche home care is filling.
What's more, relatives of patients themselves are starting to prefer home care over alternative options. More than 65% of families reported that the pandemic altered their views on how to care for aging seniors.
Whether influenced by the pandemic or a senior's personal preference, multiple options must be weighed before determining a family member's personalized care. But more and more families are settling on home care as the safest, most convenient choice.
With both the increase in elderly citizens and the continuing aftermath of the pandemic, home care will remain a primary component of the healthcare system.
2020 may have instilled moments of doubt, but the future of home care is no longer in question.
It's time to invest, plan, and prepare for a future of high demand and exponential growth. There will be a rise in inter-industry competition accompanied by renewed commitment to home care technology and innovation. It will be a time of challenge, excitement, and reward.
And one thing is absolutely guaranteed: there will be no shortage of willing, grateful clients.