Certified Homecare Consulting and AxisCare join forces to help startup agencies succeed
Waco, Texas – July 30, 2018 – AxisCare Home Care Software has entered a partnership with Certified Homecare Consulting (CHC) to provide Home Care start-up agencies with their web-based software solution to assist them with managing their new agencies from admitting new clients, to billing and tracking the care provided, marketing support, state of the art mobile access for caregivers, and much more.
AxisCare has already supplied several of Certified Homecare Consulting's clients with access to their platform, and this month solidified their corporate partnership. CHC prides itself in staying ahead of the curve and ensuring that all of their start up agencies comply with the highest industry standards at all times.
"This partnership is more than simply providing software to startup home care agencies – it's an opportunity for AxisCare and CHC to make an impact in the lives of the aging by providing more agencies the freedom and tools they need to care for their clients," said AxisCare CEO, Todd Allen.
"We are very excited to partner with Certified Homecare Consulting to provide a scheduling software to their network and give them the tools they need to effortlessly handle day-to-day operations and expand their client base."
"Partnering with AxisCare is an exciting new venture for us as we continue our mission to introduce the highest quality partners to our clients, ensuring that they hit the ground running with the most comprehensive set of tools for the success of their Homecare agencies", said Marcus Ponce de Leon, Certified Homecare Consulting's Chief Operating Officer.
"The work we've done so far with the AxisCare team has received high praise from our consulting team and clients alike, and I'm excited to see that continue to grow. As the Homecare Industry continues its expansion with more Baby Boomers requiring care and assistance to maintain their independence at home, I can think of no better power partner to help further our quality care and reporting standards for our start up agencies. We're looking forward to a great relationship with AxisCare."
About AxisCare
AxisCare was created by agency owners who were looking for a user-friendly, web-based system with built-in marketing and CRM features. Since that time, the company has rapidly expanded across all 50 states and 6 countries offering an affordable, easy-to-use platform home care agencies use to manage and grow their client base – from startups to enterprise level.
Recently given the industry's top award for ease of use, overall performance and customer service, AxisCare's mission is to transform home operations, empowering agencies to give better care. For more information about AxisCare, please visit axiscare.com or by email at sales@axiscare.com.
About Certified Homecare Consulting
Certified Homecare Consulting consults individuals, existing companies, and franchise companies with the process of home care, home health care, and hospice startup. CHC's home care business consulting services and products are built on a strong foundation of individualized attention. Their home care consultants know that every home care business and every situation is different, that's why they take the time to get to know their home care and home health care agencies so they can develop a comprehensive plan to fit their unique business. For more information about Certified Homecare Consulting, please visit certifiedhomecareconsulting.com or contact Steve Goss at sgoss@certifiedhcc.com.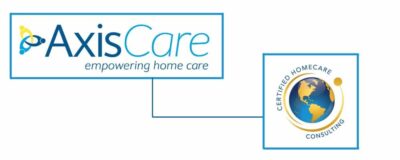 Phone               (800) 930-7201 Email        sales@axiscare.com 
We're confident that once you try AxisCare Home Care Software, you won't go back to the old way of managing your business.