Caregivers have regular contact with your clients, providing the hands-on care and representing the face and helping hands of your company. If you have quality caregivers on staff, they're more likely to thrive personally and professionally on the job and you'll be more likely to retain these employees in the long run. That's why hiring caregivers who are right for the job is an extremely important task that can help determine the success of a home care agency.
The following are seven characteristics to look for when you're hiring caregivers:
Caregiving can be a stressful, demanding job with many challenges. Those who excel at it view the job as a calling to care for people rather than just a way to get a paycheck. Hiring caregivers who want to help their patients and make their lives easier by looking for better ways to perform their jobs will improve your company.
A quality caregiver has a connection with their clients. He or she should be able to understand – at least as much as possible – what the patient is going through. Empathizing with their situation will make a good caregiver want to provide help and ease their concerns, fears, or discomfort.

Caregivers should show up on time and be able to be trusted in patients' homes and with their well-being. They should never accept gifts from patients and should be beyond reproach since they have access to patients' homes, resources, and belongings. Both the patient and his or her family should be able to have complete faith in the reliability and trustworthiness of the caregiver.
Clients may have trouble communicating or have physical or mental ailments that can sometimes make providing care more challenging. Hiring caregivers who have patience in communicating with patients and their families is important. They also remain calm and cheerful in the face of angry, frustrated clients or stressful situations such as an accident that requires cleanup.
Communication is an important part of a caregiver's job. He or she should be able to establish a rapport with patients and families, making them feel at ease. Patients and families should also be able to communicate any concerns and receive a clear answer that's not hostile or defensive. And especially for patients who may be somewhat isolated, a kind word and conversation can be very important.
Caregivers must be able to follow instructions from doctors and nurses, but they should also be capable of taking initiative. Without direct on-site supervision from other medical professionals, they'll need to be proactive and know what to do if a patient shows unexpected symptoms.
Physical Strength and Endurance
Caregivers need to be able to lift and assist their patients and perform other physical tasks, such as carrying groceries or vacuuming. They'll need to have the physical strength as well as the endurance to handle the physical demands of the job.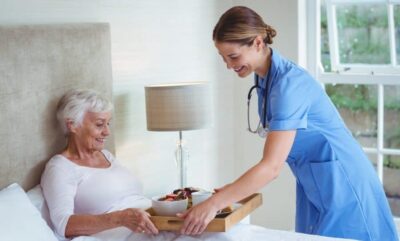 Hiring caregivers who possess these seven qualities will help your business grow and increase the level of care provided. They're more likely to remain on the job for a good period of time and excel at what they do. As a result, they'll be able to deliver superior patient care that reflects well on your company! What other qualities have you noticed in your best hires that you look for in new hires? 
Schedule a free, no-obligation demo. We'll walk you through the product and show you what makes AxisCare unique.