AxisCare, a leading scheduling and management software solution in the home care industry, has launched its ground-breaking payment processing feature, AxisCare Bill & Collect. The feature will allow AxisCare users to process credit card and ACH payments right from AxisCare with the click of a button, receiving next-day funding for most merchants in the U.S.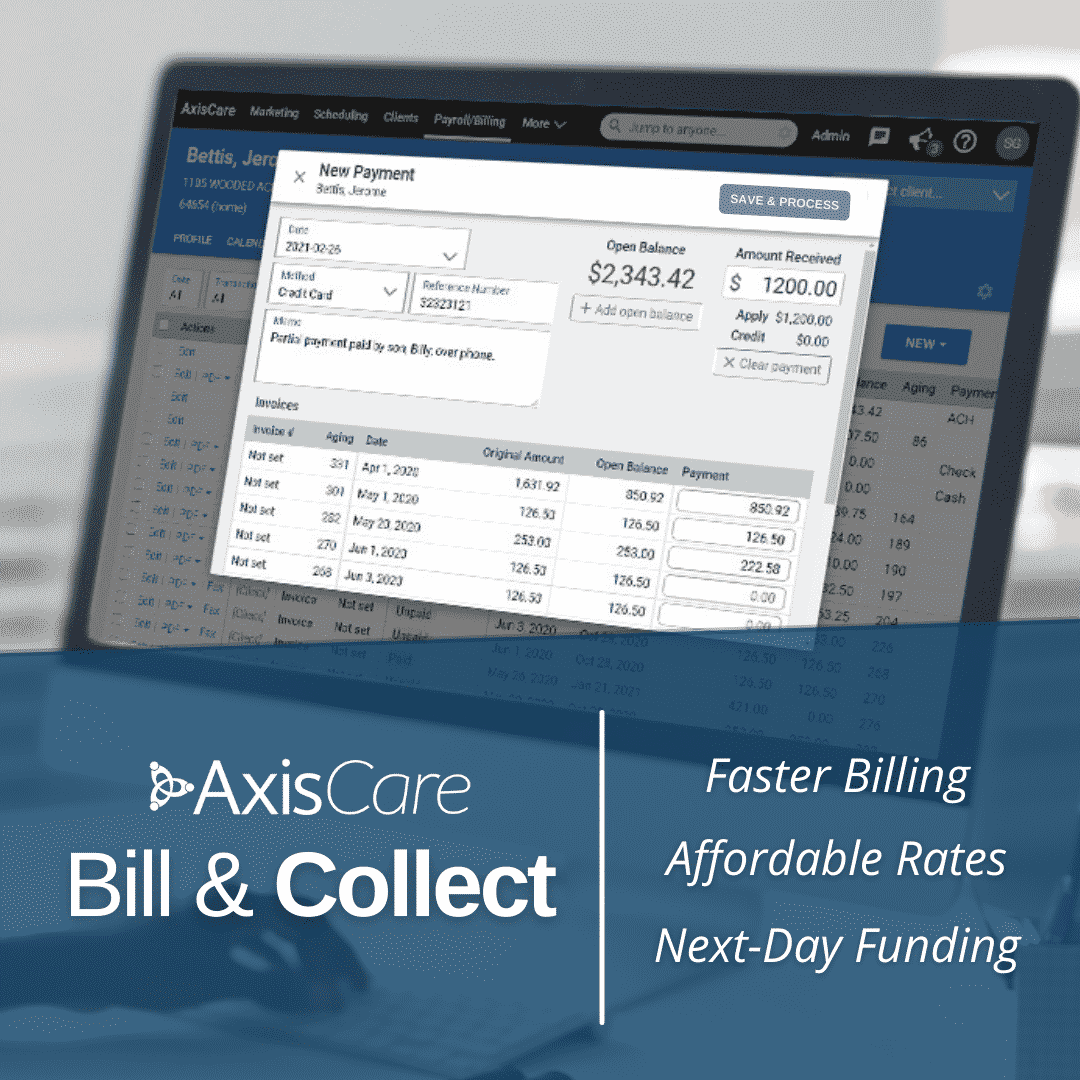 AxisCare Bill & Collect connects AxisCare's leading home care software solution to CardConnect's award-winning payment platform, CardPointe, providing AxisCare users with affordable processing rates and fast funding, helping them create healthy cash flow.
With their integrated payment portal, AxisCare users are able to easily view payments and deposits in real-time, reaching out to their dedicated support representative as questions arise.
"The new payment system that AxisCare has combined with CardPointe is so easy and seamless," says Andrew Bilsbury, Chief Executive Officer & Owner of Amada Senior Care in New Hampshire. "It turned an operation with many steps and multiple websites into less than 5 minutes of work. I am funded the next day and the fees are extremely competitive. The support teams have been very responsive and I highly recommend them to anyone using Axiscare."
"Home care agencies in every state are looking for ways to simplify workflows, and this release puts our customers one step ahead of their competition", says Todd Allen, CEO of AxisCare. "AxisCare Bill & Collect is going to radically improve cash flow for AxisCare users and dramatically reduce billing and collections time. We couldn't be more pleased with our partner, CardConnect, and their ability to offer competitive merchant rates and unmatched customer service to our customers."
After months of beta testing with numerous clients, AxisCare has officially launched Bill & Collect and has seen widespread adoption across its client base.
"Our team at CardConnect® has focused on home care for the last six years and during this time we have heard from countless agencies on what they need from a billing platform. AxisCare Bill & Collect is exactly the feature-rich and easy-to-use system they have been looking for. We have seen clients save precious hours on tedious tasks that are now fully automated by utilizing AxisCare Bill & Collect. We are excited about the partnership and look forward to serving AxisCare customers with our combined turnkey solution," shared Alex Bondarenko, Payments Consultant at CardConnect®
About CardConnect®
CardConnect® is a payments platform of Fiserv, focused on helping businesses of all sizes grow through the seamless integration of secure payment processing. AxisCare's dedicated team of CardConnect® representatives work with home care agencies across the country to streamline the way they accept and manage payments while ensuring they receive their funds quickly and securely. For more information, contact AxisCare's dedicated CardConnect® representative, Alex Bondarenko, at abondarenko@cardconnectpartners.com.