The Industry's First HIPAA Compliant Two-Way Caregiver Chat
WACO, TX, NOVEMBER 07, 2019 – AxisCare Home Care Software announced the launch of their Caregiver Chat feature this week. With all messages being encrypted and requiring a secure login to view, the chat will be the home care industry's first HIPAA compliant two-way messaging platform. The messaging platform will allow agencies to quickly and securely send messages back and forth with their caregivers, right from their AxisCare site.
AxisCare created Caregiver Chat to empower agencies to have more consistent and secure communication with their caregivers, leading to increased caregiver happiness and decreased caregiver turnover.
"We are excited to provide a solution for office staff to communicate with caregivers in a way that is both convenient and secure. In order to provide excellent care to the seniors they serve, our customers are constantly communicating with their caregivers – who are the eyes and ears of the agency. Our Caregiver Chat feature allows caregivers to communicate with office staff about clients through the AxisCare GPS Mobile App in a convenient, HIPAA compliant way. This is a great alternative to non-HIPAA compliant forms of communication, such as text messages," says John Atkinson, AxisCare's CTO/COO.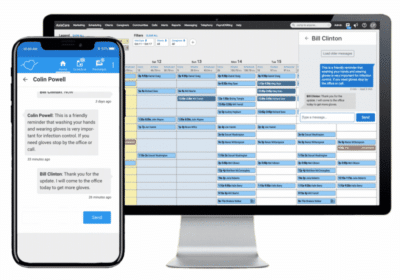 "In addition to the convenience and security, Caregiver Chat also records a permanent record of the conversations between staff and caregivers, which allows auditing to easily take place when there is a need to see what was communicated."
The Two-Way Chat feature has already been adopted by many agencies, and is anticipated to spread quickly across the company's client base in all 50 states.
About AxisCare Home Care Software
AxisCare's award-winning home care software is a back-office and point of care solution for non-medical agencies across all 50 states and 6 countries. Specializing in Private Pay, Medicaid and other 3rd-Party Billing integrations, the platform helps agencies from startup to enterprise stay compliant, cash-flow healthy, and ahead of their competition with built-in marketing and CRM tools. Recently receiving US Business News' award for Best Non-Medical Home Care Administration Application 2019, their mission is to transform home operations, empowering agencies to give better care. For more information, they can be reached at sales@axiscare.com or by visiting axiscare.com.
Schedule a free, no-obligation demo. We'll walk you through the product and show you what makes AxisCare unique.