Arosa, the largest integrated care management and caregiving services provider in the United States, has chosen AxisCare Home Care Software as its exclusive scheduling and management software partner for all 25 offices.
Arosa chose AxisCare for its simplicity, sophisticated business intelligence platform, and willingness to accommodate its specific operational practices and workflows. With its recent acquisition of Aveanna Concierge Services, entering Arosa into its 8th state (New Jersey), robust multi-office management and reporting, care plan customization, and integrated payment portal tools were must-haves.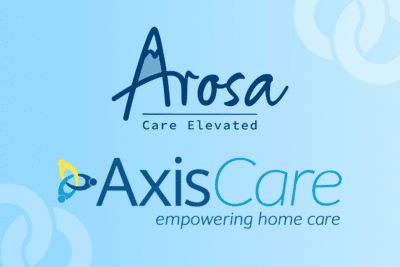 "AxisCare's understanding of the complexities of being an integrated provider of care management and caregiving services was critical to establishing our partnership. Their willingness to receive feedback and implement changes for core system components on or ahead of schedule solidified our trust in their team. We look forward to the opportunity to work together to make AxisCare a key element of our operational success," says Cyril Vergis, COO of Arosa.
Officially rebranded with a unified nationwide name in January 2021, Arosa continues efforts to create more meaningful and higher quality jobs for care professionals. It recently launched the Arosa Grant Circle, an emergency assistance fund for Arosa caregivers and office staff, allowing team members facing financial hardship to submit a request for a no-strings-attached grant.
"We have had the pleasure of working with Arosa leadership for many months to customize a scheduling and management platform that works for their unique service delivery model. They truly are innovative leaders in Home Care and we are honored to have been chosen as their software provider. I look forward to working with Arosa – not only giving it the tools they need to succeed but to workshop together to make meaningful changes inside AxisCare and in the home care industry", says Todd Allen, CEO of AxisCare.
Arosa has already begun piloting AxisCare and will be launching the software platform in its other 20+ offices shortly.
About Arosa Care
Arosa is the premier integrated care management and caregiving services provider in the United States. With 25 offices in 8 states (California, Florida, Illinois, Massachusetts, New Jersey, North Carolina, Tennessee, and Texas), they have over 2,000 care professionals that provide care for clients and peace of mind for their trust circle. Its mission is to attract, train, retain, and treasure the best care professionals, and to create superior models of care to serve the greatest number of clients. To achieve this mission, Arosa has partnered with social impact firms, Bain Capital Double Impact and HCAP Partners. Learn more at arosacare.com.
About AxisCare
AxisCare's award-winning home care software is a back-office and point of care solution for non-medical agencies across all 50 states and 8 countries. Specializing in Private Pay, Medicaid, and other 3rd-Party Billing integrations, the platform helps agencies from startup to enterprise stay compliant, cash-flow healthy, and ahead of their competition with built-in marketing and CRM tools. Recently named FrontRunner and Category Leader by SoftwareAdvice and GetApp, their mission is to transform home operations, empowering agencies to provide better care. For more information, they can be reached at sales@axiscare.com or by visiting axiscare.com.
[Read the Official Release]