Leveraging Business Intelligence to increase profits, retain employees, and scale efficiently in the home care space is easier than it sounds.
Not only is Business Intelligence software, like AxisCare Business Intelligence, ridiculously intuitive and easy to implement, it also enables confident decision making backed by real data. Read on to learn how Business Intelligence (BI) technology can uncover valuable trends and patterns in your existing data to help you work smarter this year.  
Data: The World's Most Valuable Resource
With good reason, The Economist went out on a limb and dubbed data as the "world's most valuable resource" in 2017, and since then, it could be argued that their case has only strengthened. Although there is some debate about the absolute value of data, one thing is certain: the daily operation of your agency creates a potential goldmine of data that you can use to grow your business.
Every scheduled visit, caregiver hire, or billable hour recorded adds information to your dataset which can be mined for actionable insights and used to scale your agency intelligently.
Manually Updating Spreadsheets is so Last Year
Surface-level tracking of KPIs and financial metrics makes it difficult to uncover patterns and trends in your unique business data without the aid of expensive advisors or the time-consuming manipulation of cumbersome spreadsheets. Fortunately, this is where Business Intelligence software comes to the rescue. 
Utilizing a BI tool that was created specifically for home care software means that you have one-click access to essential KPIs, such as Gross Revenue, Caregiver Retention, Total Client Hours, and many more, right out of the box. These important metrics are beautifully graphed and neatly charted so trends and patterns are easy to see without wasting precious hours formulating spreadsheets or spending your hard-earned profits on analysts.
Created for Home Care, Customized for You
Within AxisCare's Business Intelligence tool, customizable dashboards aggregate the data you use most. With dashboards and home care-specific filters, like Care Start Date, Referral Source, Billable Overtime Hours, and more, you finally have the ability to drill down on the data points that are most informative to your business strategy.
Understand

trends in caregiver turnover

as you implement

new retention strategies.

Track your

largest referral sources

as they change from quarter to quarter.

Observe the difference in margin between payable and billable overtime each month.

Map client locations and caregiver locations to

maximize efficiency

.

Compare your most profitable services

to how your caregivers typically spend their time.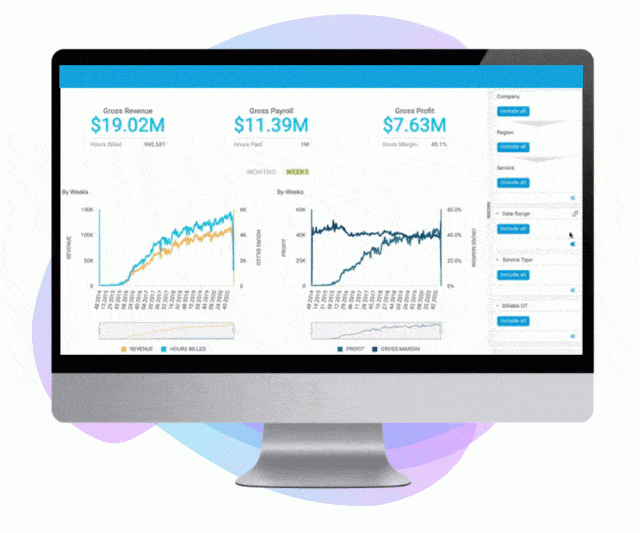 The questions that can be answered with a few clicks inside a Business Intelligence tool are only limited by your imagination. Easily access the data you need to feel confident making informed decisions and setting goals for the year ahead.
Jason Wiberg, CFO of Family Resource Home Care (the leading provider of home care services in the Pacific Northwest), says having easy access to essential home care data points has made a big impact on how they make decisions.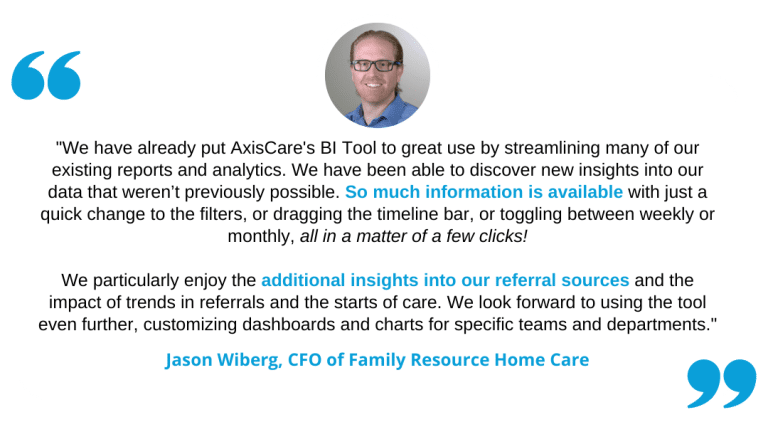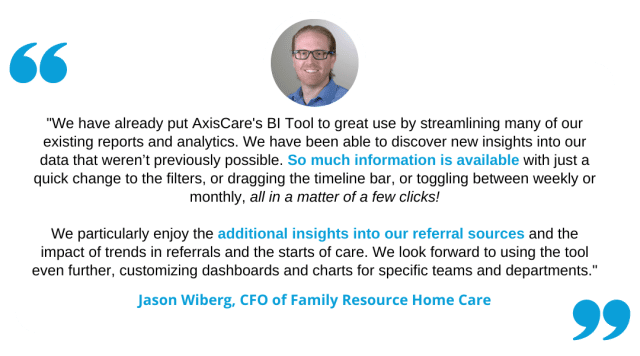 Make Better Decisions
To make the biggest impact on your bottom line, stop wasting time and money on ineffective data tracking and understand the story behind your information. Allow deep insights to emerge and provide the details to confidently back your best decisions. If you only invest in one tool to empower your growth strategy this year, choose to mine your "most valuable resource" with Business Intelligence software created for your business. 
See how truly transformational a Business Intelligence tool could be for your agency by scheduling your own behind-the-scenes look at the best BI tool for home care software users. 
If you don't have access to all-in-one home care software that makes tracking easy— along with scheduling, billing, EVV compliance, and more— empower your agency by scheduling a demo today!