Partnership provides AxisCare customers with online resources that aid compliance with federal and state employment laws.
[WACO, TEXAS| MARCH 16, 2020] AxisCare, the award-winning home care scheduling and point-of-care software trusted by agencies around the world, has entered into a partnership with Littler Mendelson, the world's largest employment and labor law practice representing management, to provide AxisCare users with state-specific legal forms for managing compliance and minimizing litigation risk.
Littler's Home Care Toolkit, a web-based tool, helps companies comply with state and federal rules in the heavily regulated home care industry and provides employers with informative guidelines and helpful forms and training materials. The Toolkit gives agencies access to materials covering the entire employment lifecycle, from onboarding to end of employment, as well as timesheets for live-in and hourly caregivers and compensation agreements for non-exempt employees and non-exempt live-in and extended shift caregivers.
"In the ever-evolving labor and employment law landscape, we're excited to help AxisCare clients better manage litigation risk and strengthen their compliance efforts," said Angelo Spinola, Chair of Littler's Home Care Industry Practice Group and creator of the Littler Home Care Toolkit. 
Phone                                       (800) 930-7201
Email                                 sales@axiscare.com
"This agreement provides AxisCare's clients with essential tools to establish effective and efficient workplace policies so they can focus on growing their businesses."

Littler's Home Care Toolkit will also provide AxisCare clients with access to model policies and forms related to travel time, remote work, time reporting, off-the-clock work and treatment of sleeping time. Other resources include a survey of state laws about home care companions and other domestic workers; training presentations on wage and hour issues; agency investigations and other areas impacting the industry; guidelines to help small businesses comply with federal employment laws; a summary of compensation options for non-exempt home care workers; and multi-state Littler GPS Surveys providing updated tracking of state and federal employment laws.
"In the regulated home care industry, it's important that our clients stay compliant with the ever-changing federal and state regulations. We are excited to partner with Littler to automatically incorporate the state-specific compliance forms inside the AxisCare platform. This advances the ball significantly in the Fight for Paperless, and helps agencies nationwide manage their risk without all the leg-work of manually entering the forms into their software," said Todd Allen, AxisCare CEO.
About AxisCare Home Care Software
AxisCare's award-winning home care software is a back-office and point of care solution for non-medical agencies across all 50 states and 6 countries. Specializing in Private Pay, Medicaid and other 3rd-Party Billing integrations, the platform helps agencies from startup to enterprise stay compliant, cash-flow healthy, and ahead of their competition with built-in marketing and CRM tools. Recently receiving US Business News' award for Best Non-Medical Home Care Administration Application 2019, their mission is to transform home operations, empowering agencies to give better care. For more information, they can be reached at marketing@axiscare.com or by visiting axiscare.com.
About Littler
With more than 1,500 labor and employment attorneys in offices around the world, Littler provides workplace solutions that are local, everywhere. Our diverse team and proprietary technology foster a culture that celebrates original thinking, delivering groundbreaking innovation that prepares employers for what's happening today, and what's likely to happen tomorrow. For more information, visit http://www.littler.com.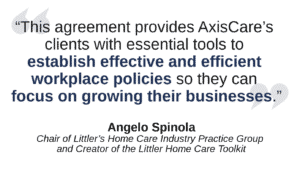 We're confident that once you try AxisCare Home Care Software, you won't go back to the old way of managing your business.